Clearly I have taken the Winter break a little too far this year, enjoying 3 weeks of blog free fun while a tackle a whole array of life admin.The first 4 months of the year are complete carnage for me this year with so many big birthdays and weddings coming up, loads to organise and do but all exciting stuff. I have kicked off my reviews this year with a stonking invite that came along, to go and enjoy the world premier of the
Scottish Opera's
latest work, The Devil Inside. A chance to enjoy the newly extended Theatre Royal in Glasgow alongside my first ever trip to the opera was something not to be missed.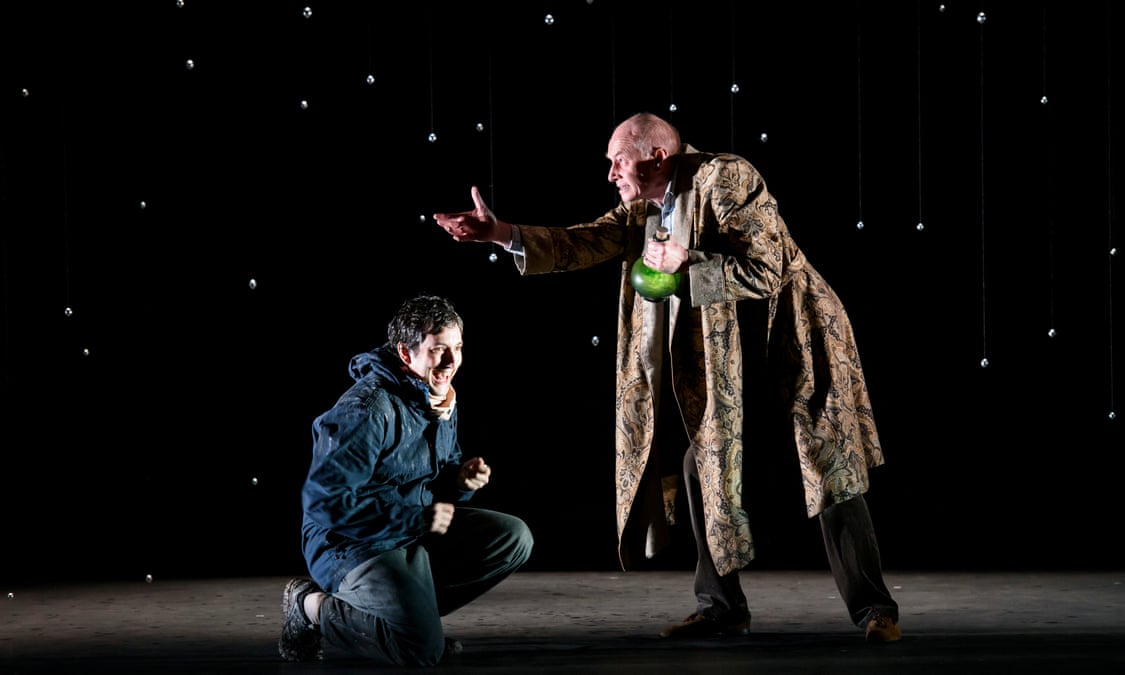 I actually studied Opera for a year at Uni and found it absolutely fascinating, having watched lots of performances I have never actually been to see one live so I was super excited. Based on the Robert Louis Stevenson short story The Bottle Imp, the opera is a look at love and selflessness alongside the darker sides of greed and compulsion that can consume us all. Created by renowned novelist Louise Welsh and acclaimed composer Stuart MacRae, The Devil inside tells the story of a bottle with power to grant your desires- the catch however is you can only sell it for less than you paid for it,and if you happen to die while you own it, well your soul heads straight for hell.

I loved the macabre premise of the opera and I couldn't stop thinking what would I do if I was given the chance to infinitely wish for ANYTHING my heart desired? the sudden ability to have it all? How long would I keep that power before passing it on? Would it change me? I was excited to see how it played out on stage.
With stunning orchestration that weaved the mood throughout the performance, the characters drew you in and I genuinely couldn't guess where the story was taking us. The opera is written in English but there are subtitles up on a screen above the stage so you can follow along if you lose any words in the singing. I thought I would find it totally distracting but I actually managed to just focus in on the action in the most part. Being a huge musicals fan I think it took me a while to adjust to the opera style, the first half was slower than the second for me but interestingly Ally who has little experience of Opera was entranced throughout out. I wasn't sure how he would take to it, but he absolutely loved it!
In fact, I couldn't shut him up all the way home... he clearly has the opera itch now :)
This tale of the heavy price of greed, intertwined with themes of friendship and love, was a great introduction to live opera, fluid and easy to follow while remaining complex and engaging in style. Each of the 7 scenes have a distinct musical identity that kept good pace and kept the drama unfolding. I am definitely keen to get along to see a larger ensemble piece in the future or even catch one of the classics to see how it compares. I couldn't not mention the newly extended
Theatre Royal
which was the perfect location to enjoy The Devil Inside. There is a huge fantastic spiral-ling staircase in the new entrance which takes in lovely cafe space and bars. I also can't miss out a shout out the bloody lovely catering on offer too, I have been too my fair share of press events but the canapes these guys were handing out were the absolute best. I will definitely be going back to see if the Cafe is just as tasty.
You can learn more about the production in this ace video,
MTW The Devil Inside
from
Music Theatre Wales
on
Vimeo
.
Touring details for upcoming performances are
here
.